Meet our 2020 National LIVEr Champion, Philip Kennelly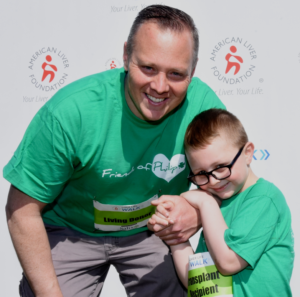 Philip was born in July 2013, and he was seemingly healthy at first. He had some jaundice in his eyes, but we were assured this was normal and it would soon fade away. Finally, at six weeks old, I insisted that this was not going away, and they finally retested his bilirubin. We received a call later that day telling us to go to the emergency room. After many tests, and a biopsy, it was determined that Philip had Biliary Atresia. At eight weeks old, he underwent a procedure called a Kasai, which serves as kind of a "temporary fix" that allows bile to drain from the liver.
Philip spent the next two years in and out of the hospital. He couldn't sleep at night and would scratch himself so much that he would have open sores all over his body. He also developed portal hypertension, which caused him to have esophageal varices and GI bleeds. In February 2016, Philip had a GI bleed, only a week after an endoscopy showed he did not have any varices that looked concerning. It was determined that with the unpredictability of his bleed and the itching getting even worse, he should be listed for a transplant. But according to his blood work, his PELD score was not high enough to get him transplanted any time soon.  His team suggested looking into living donation, so we discussed it as a family and we decided that Philip's dad, Dan would get tested first. And he was a match!
On May 10, 2016, they were wheeled into the operating room and our lives were forever changed. Both are doing great since the surgery. Dan sometimes forgets he even had surgery. Philip has had a couple of bumps along the way, but the transplant has allowed him to start kindergarten this past year and keep up with his peers. He is a typical six-year-old boy who loves cars and playing with his brother. You would never know all that he has been through if we didn't tell you.
– Kim Kennelly, Mother of Philip