Meet our 2022 San Francisco South Bay LIVEr Champion - Brad Wilson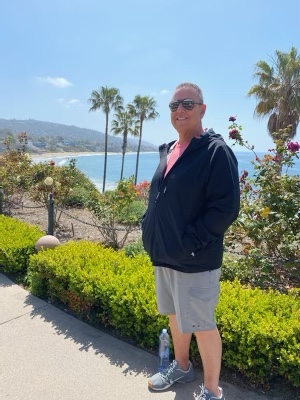 Family was most important to Brad. He met his beautiful wife of 36 years, Diana, at RFI. She was a drafter and as a technician, he found every excuse to be in the office trying to woo her to go out with him. He finally won her heart and they married in 1985. They built a family together, kids and grandkids followed. 
Brad strived to be a present husband, father, and grandfather even after becoming COO/President of RFI, where he impacted the security industry's community for 40 years. He didn't like to miss out on anything…so he coached little league, visited his kids at school and work, and even went to his granddaughter's swim lessons "just to be part of her world". Brad often said he "gathered his energy from people". He loved going to industry events, sporting events, family events, and even Costco, where he loved the sport of dodging people and carts! He just loved being around people. God, in turn, used him to reflect the energy he gathered back to everyone he met. He was intentional when he provided positive encouragement and expressed genuine gratitude to those around him. He was a man of integrity, honesty, and compassion for others.
Brad's battle with liver cancer was a battle he didn't know he was fighting. He spent the last half of 2021; "just not feeling right", he attributed it to something he ate, not getting enough sleep, or maybe stress. His trips to the doctor and blood tests didn't identify the true cause of his discomfort. By Christmas, he had begun to turn jaundice and the blood tests started to show a cause for concern, but he came down with COVID and delayed seeing a specialist. 
Once he was admitted to the hospital, it was very quickly determined he had an aggressive liver cancer and there was a blockage in his bile duct. It was decided he would get the blockage removed; then go home to process his diagnosis. What is still so difficult for family and friends to accept was Brad found out his diagnosis by himself, no family could be with him. He in turn had to tell his family this news by phone. His source for energy, "people", couldn't be with him leading up to the very first surgery he ever had in his life. After the stints were inserted into his bile duct and he was able to go home, the stints failed. The family brought him back to the hospital where they attempted surgery, but it was too late and he died due to sepsis. It was eight days from the time he learned his diagnosis.
While there are times we feel a certain amount of mercy that Brad's known battle was extremely short; there is a huge void and a deep sadness we couldn't say good-bye. There is comfort in how Brad lived his life. He didn't leave words unsaid. He lifted us up and encouraged us daily.
Brad was a gift and would have found so much joy in being the LIVEr Champion!
To support Brad's Team, please click here.
2022 National LIVEr Champion
—Barbara Pitts
I'm so excited to be your national champion for the Liver Life Walk! It is the one fundraiser that I participate in every year.
I was first diagnosed with liver disease in 1999. At first, they thought I had PBC, but I didn't have the marker for that, so we technically never did figure out what disease I had. My LFTs were off the charts and some of the highest ever seen at Johns Hopkins. MELD scores didn't exist back then or I would have received a transplant in 2002.
I stayed pretty healthy for many years and took a turn for the worse in 2016. First I had ascites then varices. Then in August 2020, I was diagnosed with liver cancer during a routine MRI. While it was terrifying, it ended up being a blessing. During the treatment, they found an aneurysm in my splenic artery, which we immediately treated. It also gave me a MELD exception score. That made it possible for me to receive a liver transplant on July 9, 2021. It's a tough surgery, but I can't believe how much better I feel!
Unfortunately, my liver sort of destroyed my kidneys, and I am now waiting for a kidney transplant. At least this will be much easier than the liver transplant.
I have participated in every Liver Life Walk since the first one in 1999. If I was too sick, I collected donations. If there wasn't a walk in DC, I held my own walk and got friends to do a 5k with me. To date, I've raised about $55,000 for the ALF. I want to do everything I can to raise money for research and education. I have an incredible group of friends who support me emotionally and spiritually and as far as the walk goes, they're always there with donations. Don't be shy when asking for money! It's all going to a great cause! Good luck at the 2022 Liver Life Walk!