2018 Boston LIVEr Champions
Deb Debski and Shannon Silvestri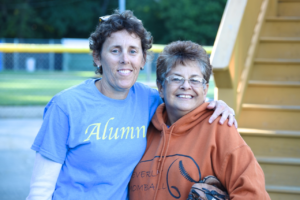 Deb Debski:
I was first diagnosed with primary sclerosing cholangitis (PSC), a chronic disease that slowly damages the bile ducts, in 2009. For patients who have PSC, the bile ducts become blocked due to inflammation and scarring, eventually leading to cirrhosis. As cirrhosis progresses, the liver loses its ability to function.
When I was first diagnosed, my doctors indicated that I was in the very early stages of liver disease. Following my diagnosis, I experienced infections of the bile ducts, or cholangitis, eventually needing to have my gallbladder removed. Two years after my initial diagnosis, my doctor biopsied my liver and informed me I was in stage 4 liver disease.  I remember thinking, "please tell me there are ten stages," as this news was frightening and it took me awhile to process.
I eventually realized that my health was rapidly declining and I would need a liver transplant. My doctors explained that the list for liver transplants is organized by MELD scores (Model for End-stage Liver Disease). This score is based on blood work and assesses the severity of chronic liver disease. While I was sick, my MELD score would likely not get high enough for me to get a liver from a deceased donor in the time I had left.
The next step was the process of looking for a live liver donor. In a live liver donation, about 60% of a healthy person's liver is placed in the person who is ill. Both portions will regenerate back to full, normal sized livers within months of the surgery. My family was tested first, but unfortunately, no one was a match.  With the support and help of friends, I began to cast a wider net, getting the word out by holding fundraisers, using social media and even posting a billboard in my home town of Beverly.
While my search was ongoing, my health continued to decline. Between 2012 and 2016, I was hospitalized frequently, struggling with increasing severe symptoms of liver failure. The liver is responsible for so many functions that when it fails, every part of the body is impacted. By 2016, I was hospitalized every six to eight weeks dealing with severe symptoms of liver failure.
Reality began setting in, as I couldn't imagine leaving my children, who were in their early 20's, and all the important life experiences I would miss. At the same time, my close friend Mary was battling stage 4 breast cancer.  We found comfort in each other, while experiencing the same emotions of facing the end of our lives. I often think back to a meeting of my supporters at my home, when Mary shared that there was no hope for her, but there was still hope for me. I will always cherish my remarkable friend who sadly lost her battle with cancer. Her loving strength and support remains with me today and I think of her always.
In April of 2016, I made one final plea. I took to Facebook, thanking everyone who had already stepped up (34 people had been tested but none were a match), and implored that if anyone was considering being a donor, now was the time.  I had less than a year to live.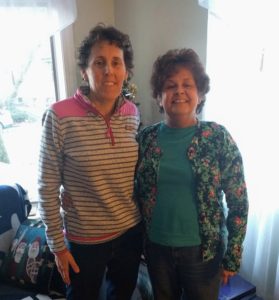 Shannon Silvestri:
I had been following Deb's donor search via Facebook and had seen the billboard in town. Without telling Deb, I decided to look into what being a live donor entailed, feeling that somehow I was meant to save Deb's life. I simply felt it was the right thing to do and even though I knew all the risks; I was sure I was chosen to do this. I had never been sick and had only been in the hospital for the birth of my three daughters. After extensive research, I shared my thoughts with my husband Jamie, not willing to move forward without his support.
Jamie and I went to my first appointment on May 16, 2016,, which turned out to be a long day of tests and meetings with doctors. I recall being asked a million questions.  One that stands out was "why would you do this and risk your own life as well as that of your family?" I imagined if this was my mother, daughters or husband and I couldn't be their donor.  I put myself in Deb's position; the idea of leaving my children and hoping that someone would do the same for my family.
By early June, I was one test away from being officially approved as Deb's donor. Two other candidates had made it to this final round of testing only to be counted out at the very last stage. Deep down, I knew I would be the one to save Deb's life.
The night before the final test, I texted Deb with a short message saying: "I'm going to be the one." Deb called me immediately asking, "you're the one what?!" Even now, Deb cries reliving this moment and the utter amazement that I was a match. She was unable to express her excitement at the idea of continuing her life, as Deb had been mentally preparing herself for the last of everything.  Deb found it hard to believe that I, the picture of health, would do this for her knowing everything a donor would endure. Now, we both knew we would survive!
Transplant day was September 27, 2016. I was brought into the operating room first so my liver could be split. I recall having a sense of calm that everything would be fine. I felt terrible for my husband, who would have to wait all day. I remember Jamie's confidence, and together we knew that someone was watching over all of us. Deb was equally as excited and eager to finally be entering the operating room while her family too, stood by. Not only was it our two families standing by anxiously awaiting the outcome, but our whole town of Beverly waited.   Neighbors were updating one another via Facebook; it was as though the town stood still that day. The community effort, before, during, and after transplant, for both myself and Deb, was amazing.
Unfortunately, the transplant did not go as expected.  Deb faced numerous complications and the first 36 hours were touch and go. She was put in a medically induced coma for the first 10 days post-transplant and while fragile, she did continue to recover. Her daughter posted a call to prayer on Facebook, asking the town of Beverly to pray for her mother. Deb spent 51 days between the hospital and rehab.  While she slowly recovered, her daughter stepped into the role of her caregiver by raising money, organizing meals and setting up visitation times.
I recall waking from surgery and my husband explaining that Deb had met with some complications. A few days after surgery, my care team came to me and said that I had saved Deb's life. That was the first time the magnitude of what I had done hit me.  When I was discharged home, the recovery was not as easy as I thought it would be, but there was a new bond formed between Deb and myself. With Deb's ongoing recovery difficulties, I too felt the strain.
My recovery was both physical and mental pain.  As a fitness instructor and runner, I was used to being active.   It was a new experience to be unable to take part in my usual activities. My doctor said it had taken a Navy Seal he once operated on nine months to fully recover, so I gave myself the same timeframe. I worked out with an amazing friend and trainer, faithfully following the instructions of my care team. Even though I missed out on some things during my year of recovery, nothing could ever match the incredible feeling I have, knowing that I saved someone's life. While incredibly hard, I would not change one single thing.
~~~~~~~~~~~~~~~~~~~~~~~~~~~~~~~~~~~~~~~~~~~~~~~~~~~~~~~~~~~~~~~~~~~~
By Thanksgiving, Deb returned home.  Although it was an untraditional meal that year, having Chinese food, being with her family was amazing!  Every year, her family joins hands and shares what they are thankful for.  That year, the overwhelming thankfulness was for Shannon. She was so excited to be alive and was, and still is, amazed by the compassion of Shannon and her family. She can never thank Shannon for such a huge gift.
Since the transplant, the two women are now "Liver-In-Laws," while also enjoying a bit of local celebrity. Deb was at the Town Hall and someone reminded her that on the day of her transplant, the whole town was praying for her. People have stopped her, having seen the billboard during the donor search, and asking if that was her. So many people she barely knows still stop her to tell her how happy they are that she's still here.
Recently, Deb has begun experiencing some rejection of Shannon's liver. Rejection is a scary word but exists in a spectrum; you can have a little rejection or a lot of rejection. Thankfully, the rejection is being well-controlled with medication adjustment and Deb looks forward to returning to work soon.
Shannon, on the other hand, loves her scar.  She says it is a daily reminder of the miracle she was fortunate to be a part of.  She is in better shape now than she was before and would do it again if she could.  This year, Shannon is thrilled to be a member of the 2018 ALF Boston Marathon® team, raising funds for liver related research. "You learn so much about yourself in a process like this. You learn it's okay to be selfless and give to others. You also learn how much people are willing to drop everything and help those who need it."
The experience not only changed Shannon and Deb, but it reshaped their entire community. Their children, friends and neighbors learned more about one another and responded to a need with compassion and love. While the road is not without its bumps, the two women have one another and a whole lot more.