Meet our 2022 Michigan LIVEr Champions - Lauren, Lili, and Ila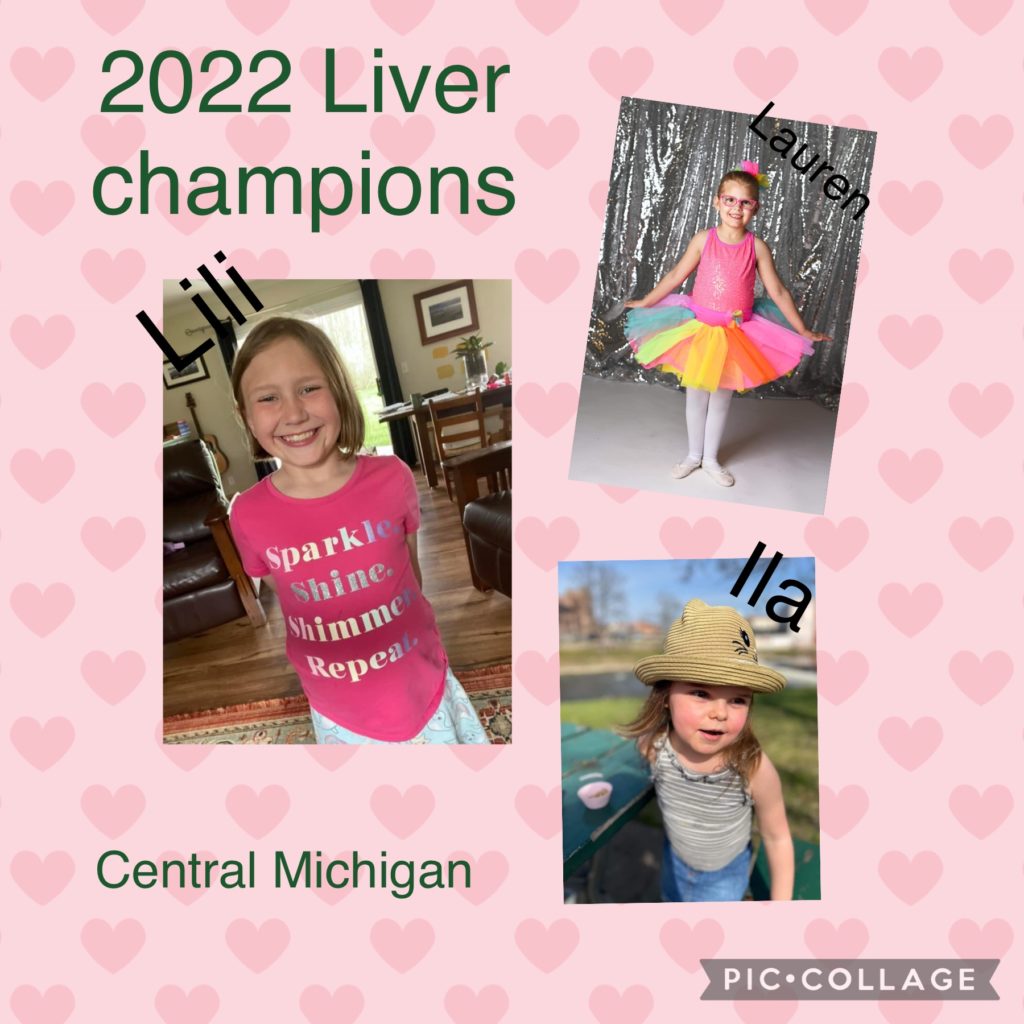 Lili was not a typical, textbook BA fighter. Her symptoms and progression confused many but in the end, she became a BA warrior July 2015. She received her liver from her mother. She currently is going into 3rd grade and loving her days with her family and friends. Everyone who meets her comments on her bubbly attitude and contagious smile. We are so grateful she is here with us every day.
Lauren was diagnosed with biliary atresia (BA) at 8 weeks old. She is currently Kasai only. She takes medication twice a day and follows with her GI specialist twice a year. otherwise, we try and keep her life as typical for a 6-year-old as possible. She is starting first grade in the fall. She loves anything bright colored and sparkly. She loves to dance and be creative. 
Ila was officially diagnosed with BA and underwent the Kasai procedure at 7.5 weeks old. Thanks to her wonderful team at Mott Children's Hospital, she has been thriving ever since. She loves playing with her big sister, Gracin, riding her bike, and steak! She is as sweet as she is silly, and is one of the toughest, most determined kids I've met. 
2022 LIVEr Champion—Barabra Pitts
I'm so excited to be your national champion for the Liver Life Walk! It is the one fundraiser that I participate in every year.
I was first diagnosed with liver disease in 1999. At first, they thought I had PBC, but I didn't have the marker for that, so we technically never did figure out what disease I had. My LFTs were off the charts and some of the highest ever seen at Johns Hopkins. MELD scores didn't exist back then or I would have received a transplant in 2002.
I stayed pretty healthy for many years and took a turn for the worse in 2016. First I had ascites then varices. Then in August 2020, I was diagnosed with liver cancer during a routine MRI. While it was terrifying, it ended up being a blessing. During the treatment, they found an aneurysm in my splenic artery, which we immediately treated. It also gave me a MELD exception score. That made it possible for me to receive a liver transplant on July 9, 2021. It's a tough surgery, but I can't believe how much better I feel!
Unfortunately, my liver sort of destroyed my kidneys, and I am now waiting for a kidney transplant. At least this will be much easier than the liver transplant.
I have participated in every Liver Life Walk since the first one in 1999. If I was too sick, I collected donations. If there wasn't a walk in DC, I held my own walk and got friends to do a 5k with me. To date, I've raised about $55,000 for the ALF. I want to do everything I can to raise money for research and education. I have an incredible group of friends who support me emotionally and spiritually and as far as the walk goes, they're always there with donations. Don't be shy when asking for money! It's all going to a great cause! Good luck at the 2022 Liver Life Walk!